About FIRST
The FIRST Mission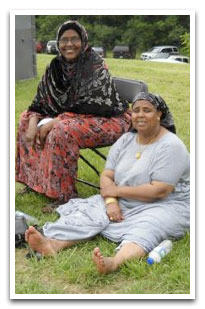 To provide support and basic needs to refugees and immigrants of St. Louis during their transitional resettlement period:
For the family

Rental assistance
Assistance with utility and medical bills
Assistance with groceries

For the children

Clothing, coats and shoes
School supplies
Diapers etc.

For the soul

Friends who listen
Volunteers who teach and encourage
Mentors who care
Who We Are & What We Do
FIRST is a small not-for-profit organization with a big mission. FIRST was born out of an outreach program started in the early '90's to provide a welcoming and helping hand for the many refugees settling in the St. Louis area.
At FIRST, we seek to assist immigrants and refugees, both individuals and families, in becoming working, productive self-sufficient citizens of St. Louis. To be successful many refugees need help meeting basic needs, such as food, clothing, rent, utilities, and physical and mental health care beyond that provided initially by the resettlement agencies.
Refugees and immigrants need more than just material assistance in a strange land. They also need the comforting, counseling, and friendship in their new country that our organization provides. To fulfill our mission, we provide financial assistance for such basics as rent, utilities, groceries, clothing, school supplies, and medical bills when needed. Acknowledging the many cultural differences that exist for those we serve, especially African refugees, we also assist with everyday life management and crises.
It takes time to adjust to any new situation, and FIRST provides our new residents with the additional time, resources and vital assistance needed to become acclimated to American society.
We are blessed to have the opportunity to welcome to St. Louis so many people from different nations and cultures. America, of course, was founded by immigrants and refugees. Our history as a nation demonstrates the outstanding contributions that diversity creates for our society. Immigrants and refugees have contributed to the genius of our technology, the productivity of our work force, the strength of our spirituality, and the artistry of our culture. Truly, all come bearing gifts. FIRST wants to provide the support for those gifts to bear fruit.
We Need Your Donation Today!
With your help
, we can improve the lives of the many immigrants and refugees who are trying to make St. Louis their home.
Contact
FIRST
120 S. Central Ave., Suite 500
Clayton, MO 63105
firststlouis@gmail.com